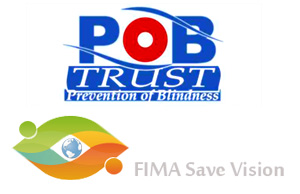 [Click here to visit the photo gallery]
To plan and make preliminary arrangements for the upcoming FIMA Save Vision eye camps, Dr. Intzar Hussain Director FSV visited Sri Lanka and Maldives in the first week of May 2014. During his stay in Sri Lanka he was also invited as a guest speaker in the founding meeting of Serendib Doctors Forum where he introduced FIMA and its different projects and had a multimedia presentation about the activities of FIMA Save Vision.

In this first convention of Serendib Doctors Forum male and female doctors from all over the Sri Lanka were addressed by eminent Doctors and Scholars and elections were also conducted at the end to elect the executive body and executive council. Director FIMA Save Vision had meetings with office bearers of Serendib Foundation Sri Lanka, Health secretary of Sri Lanka Dr. Kanthi , Director Hudson Silva Eye donation bank Janath Saman Matara, Director National Eye Hospital Colombo Dr. Sanath De Silva, different pharmaceuticals distributors.

He also visited Kuwait Hospital Putalam with director of the hospital Mohammad Rafique and had a detailed visit of the hospital and discussed about the upcoming free eye camp in this hospital in August 2014 where 1000 cataract surgeries will be performed in collaboration with IIRO and capacity building workshop for the ophthalmologists of Sri Lanka will also be conducted.

He also visited Kandy city on his way from Putalam to Colombo and during this journey different projects of Serendib Foundation like Human Resource Development and Training Centre, Ayesha Siddiqua Educational Institute, Mawanella Institute of Technical Training, Islamic Book House Colombo were visited.

He went to Pakistani High Commission on last day& had a detailed meeting with High Commission officials regarding future activities of FIMA Save Vision in Sri Lanka, and high commission appreciated all these activities and assured of their future cooperation with FIMA Save Vision in Sri Lanka.

Director FIMA Save Vision also visited Maldives for a day, where he was hosted by State Minister of Maldives Mohammad Didi and Mohammad Shaheen Ali, Minister of Islamic Affairs of Maldives and had detailed meeting about FIMA Save Vision activities and they extended their full cooperation for FIMA Save Vision free eye camps in Maldives in future for deserving and  poor patients. Dr Intzar Hussain also visited IGM Hospital Male where he met the ophthalmologists Dr. Fathimath Shaamaly and Dr. Aminath Saleem and Discussed about the free eye camp by FIMA Save Vision in December 2014.

During his stay in Maldives, he had meeting with President of Maldives Medical Association Dr. Safeer and Dr. Maroof where he discussed about the health status of Maldives, and also asked them to establish IMA Maldives. President Maldives Medical Association extended full cooperation in organization of free eye camps by FIMA Save Vision.
[Click here to visit the photo gallery]
Last modified on Thursday, 12 June 2014 11:21