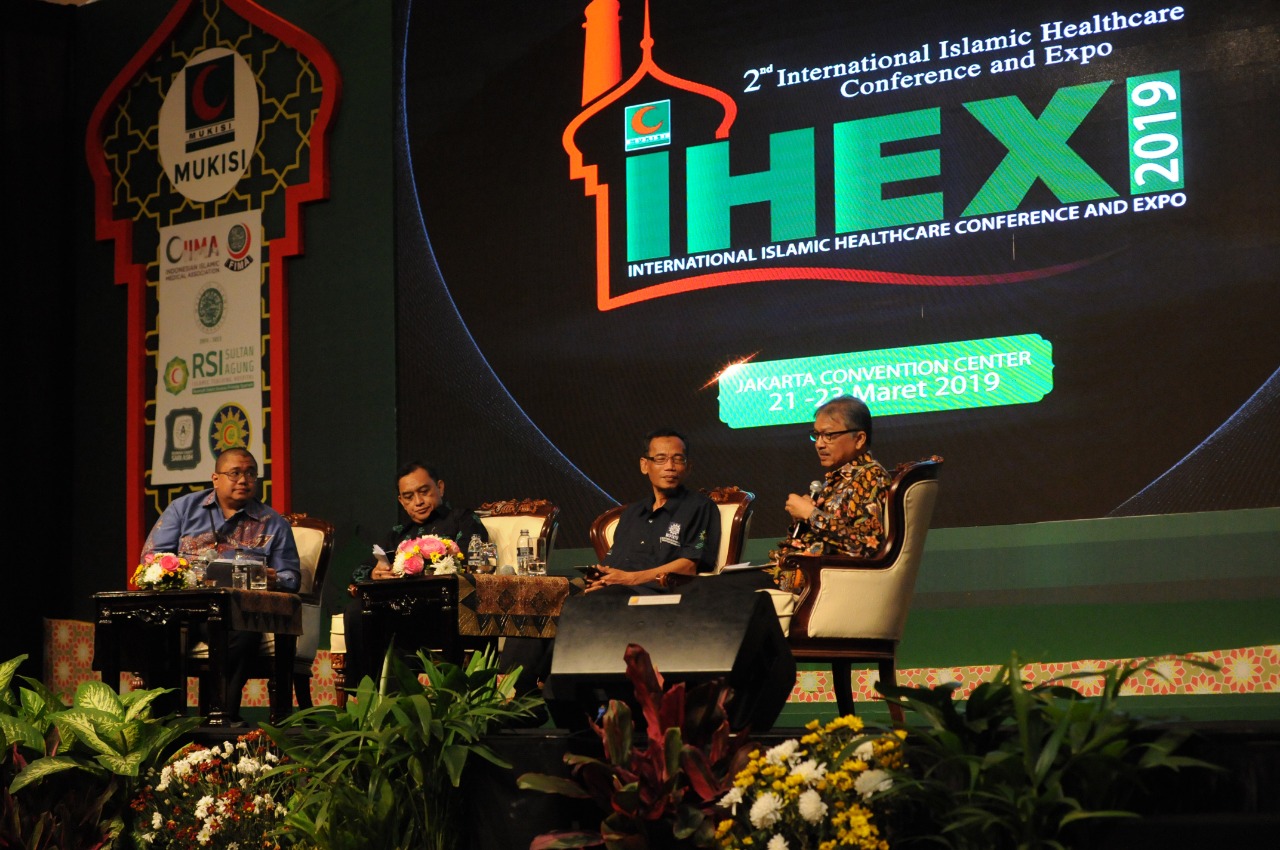 The development of Shariah Lifestyle is a strong indicator of the public demand on halal products and shariah-compliant services including healthcare. This is indicated by the arising implementation of shariah-compliant hospitals. The demand creates opportunities and challenges in the healthcare industry.
The Shariah Hospital Certification Standard combines shariah-compliant management and service standard in the framework of the national hospital accreditation. This is the central issue in the Islamic Health Institution Network of Indonesia (MUKISI) thus distinguish it from any other hospital association. The effort was commemorated in the second International Islamic Healthcare Conference and Expo or IHEX on 21st – 23rd March 2019 at Jakarta Convention Center, Jakarta.
The overarching theme was The Barakah of Shariah Hospital in the Era of Abundance. IHEX offered a series of programs namely Scientific Seminar, Free Paper Presentations, MUKISI Award Projects, 8 parallel Workshops, Health Equipment, and Halal Products Exhibition Expo. Annual National Meeting was also held for IIMA (Indonesia Islamic Medical Association) within its member IMANI, FOKI, and MUKISI. This year a session for the general public was held in order to incorporate Shariah Hospital values in daily lives. The Hijrah into Shariah Lifestyle should be completed with shariah-compliant healthcare.
Currently, there are 54 hospitals altogether which is Shariah Compliant certified by the National Shariah Board of Indonesia Ulama Council (DSN-MUI), and also in the pipeline of survey, pre-survey and guidance process.
Shariah Hospital Certification is the manifestation of the spirit to become the best of Ummah, to uphold the Shariah in healthcare services in the hospital, one must possess unique added value. Not only Shariah Hospital fulfilled all quality and patient safety standard by the National Hospital Accreditation Body, but on top of that, fulfills the criteria for shariah compliance in healthcare management and services aspects, as described in the 173 assessment elements in the Shariah Hospital Certification Standards.
The potentials of the ummah in Indonesia is blooming, becoming the center of attention in the Muslim world with the presence of IHEX and the Shariah Hospital concept. The Muslim world holds a huge expectation for it to flourish not only in Indonesia but everywhere else too.
The conference was a huge success and shall be held annually, every April in Indonesia. It shall be the flagship event for Islamic Hospital Consortium of FIMA. We hope to attract more local as well as international speakers and participants in the future. IHEX shall be our shared platform to consolidate all potentials of the Ummah to glorify each other, dunya wal akhirah, in the Islamic healthcare industry.
Dr Masyhudi AM
Chairman
MUKISI
(Islamic Health Institution Network of Indonesia)