Click here to view/download the year book (right click and "save target as" to download)
Contemporary
Bio medical issues
In light of Islam
Isbnn-969-8695-00-1
In collaboration with
Medical Islamic Research council
Islamic International Medical College
Rawalpindi, Pakistan
In collaboration with
Islamic Medical Association
World Assembly of Muslim Youth (WAMY)
Saudi Arabia
FIMA Year Book 2002
Editor in Chief
Prof Dr. Hossam E. Fadel
MD, FACOG, Augsuta,
Georgia, USA
Editorial Board
Prof Dr. Muhammad A. A. Khan, MD
Professor Emeritus
Department of Obstetrics & Gynecology at
University of Illinois, Chicago
Dr. Aly Mishal
MD, FACP
Chief of Medical Staff
Islamic Hospital Amman Jordan
Dr. Hafeez ur Rahman
FCPS, ICO (London)
Associate Dean
Islamic International Medical College
Rawalpindi-Pakistan
v Human Life before Birth:
The contemporary Issues
Aly A. Mishal,
v Induced Abortion: Is it still Criminal or Just Elective? With Emphasis in Islamic Perspective.
Muhammad A. Albar
v Cloning and Advances in Molecular Biotechnology: Islamic Shari'ah Guidelines
Aly A. Mishal
v Ethical Considerations in the prevention and Management of Genetic Disorders with special Emphasis on Religious Considerations.
Muhammad A. Albar
v Assisted Reproductive Technologies:
An Islamic Perspective
Hossam E. Fadel
v Organ Transplantation:
An Islamic Ethico-Legal Perspective
Abul Fadl Mohsin Ebrahim,
v Organ Transplantation in the light of the Shari'ah: A Jurist-Medical Opinion from Bosnia
Bakir Mehic, [et al]
v Islam and Elderly
Abul Fadl Mohsin Ebrahim,
v Religious Teachings and Reflections on Advanced Directive: An Islamic Perspective
Faroque A. Khan,
v Islamic Versus Western Medical Ethics: A Moral Conflict ar a Clash of Religiously Oriented  World View?
Malik Badri
v Islamic Code of Medical Ethics and Current Medical Practice
K. Saadiq Hussain
Respect and promotion of human life is one of the objectives of Shari'ah.  Consequently Muslim medical physicians and surgeons, for the past several centuries have faced serious ethical questions mostly in areas of pharmacology, surgery and doctor patient relationship. Modern developments in biological sciences, particularly in genetics have added more to these ethical questions.  During past three decades, an active interaction has taken place between Muslim medical doctor and jurists. This has lead to review and revision of several earlier positions taken by the jurists while a few positions have been re-confirmed.
The FIMA Year Book 2002 is an important landmark in this on going learning process for both medical professionals and scholars of Islamic Fiqh.  I have personally benefited from several research paper published in this volume.  The FIMA may consider calling the volume "Bio-ethical issue: An Islamic Perspective".  This may be followed by sister volumes.  This is for the simple reason the present title does not indicate what kind of issues are treated in the year book, the term year books, also usually refers to progress report of an institution.
This volume and its companion volumes should be used as text in the teaching programs of medical colleges in the Muslim countries.  FIMA may also like to offer these volumes to the libraries of major medical schools in USA, Europe, Asia and Africa.  Deliberation of various Fiqh councils on these issues may also be documented in subsequent volumes for the benefit of medical professionals.  FIMA deserves appreciation for this academic achievement.  I hope in future FIMA will consider producing one whole volume on one area of research.
Prof. Dr. Anis Ahmed
Vice Chairman
Institute of Policy Studies
Islamabad, Pakistan.
I received this valuable and much needed book, published by FIMA, as a gift from professor Muhammad A. A. Khan, MD, This book has 8 contributing Authors, all well known Muslim Physicians in their fields, with remarkable contributions in Islamic medical activities, especially from ethical and jurisprudence points of view.
All discussed areas of biomedical ethics have presented Muslim Physicians of today with the challenge of how to incorporate Islamic perspective on these issues which is a question being raised by Muslims and non-Muslims alike, by Physicians and lay persons, Much needed is the use of rules of Islamic Sharia and Fiqh in understanding of modern ethical dilemmas.
Even the Muslim jurists themselves are not unanimously agreed on one opinion.  Thus, the authors, knowing this have clearly stayed away from giving their own personal opinions but present us with the opinions of various Islamic schools of thought.  The reader has the freedom to make an injunction based on various opinions available.
Muslim medical students and young practicing Physicians also will enjoy this book enormously and find it useful in their practice of medicine, especially in difficult reading.  Thus, I recommend this book as a prescribed reading to all Muslim medical school's syllabus.
Shahid Athar, MD, FACP, FACE,
Past Chair, Medical Ethics,
Islamic Medical Association of North America
(IMANA)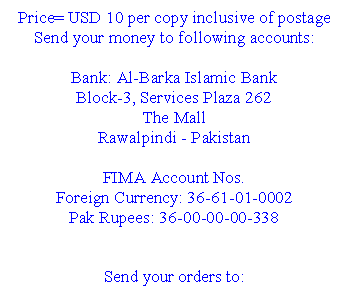 FIMA SECRETARIAT.         
Pakistan Islamic Medical Association         
Flat. No. 12,  Second Floor, Shalimar Center,
F-8 Markaz, Islamabad- 
Pakistan
Last modified on Wednesday, 16 June 2010 12:54