Report from our advisor, Dato' Dr. Musa who is currently in Cox Bazaar with the Field Hospital team. He joined our volunteers Dr. Jalila & Dr. Shamsinar together with our local & international partners at our mobile clinic in Thangkali.
If you wish to contribute to our missions :< Persatuan Perubatan Islam Malaysia (IMAM)
CIMB ISLAMIC 
8600 703 709
Swift code: CTBBMYKL
Label "Rohingya"
This email address is being protected from spambots. You need JavaScript enabled to view it.
'Charity Begins With You'
FIMA-ICR-IMARET-CSBD-FH Mobile Clinic
4 Dec 2017
1. We had a very busy baby clinic today deep inside Tangkhali. 7 day old twin brothers delivered at home assisted by a visiting nurse. Mother had a little bit of hypertension but both babies are healthy.

2. Healthy 23 days old baby girl. Home delivery assisted by family members.

3. 10 months old orphan child. Both parents shot dead by Burmese army. Escaped with grandparents 3months ago. They walked for 3 days.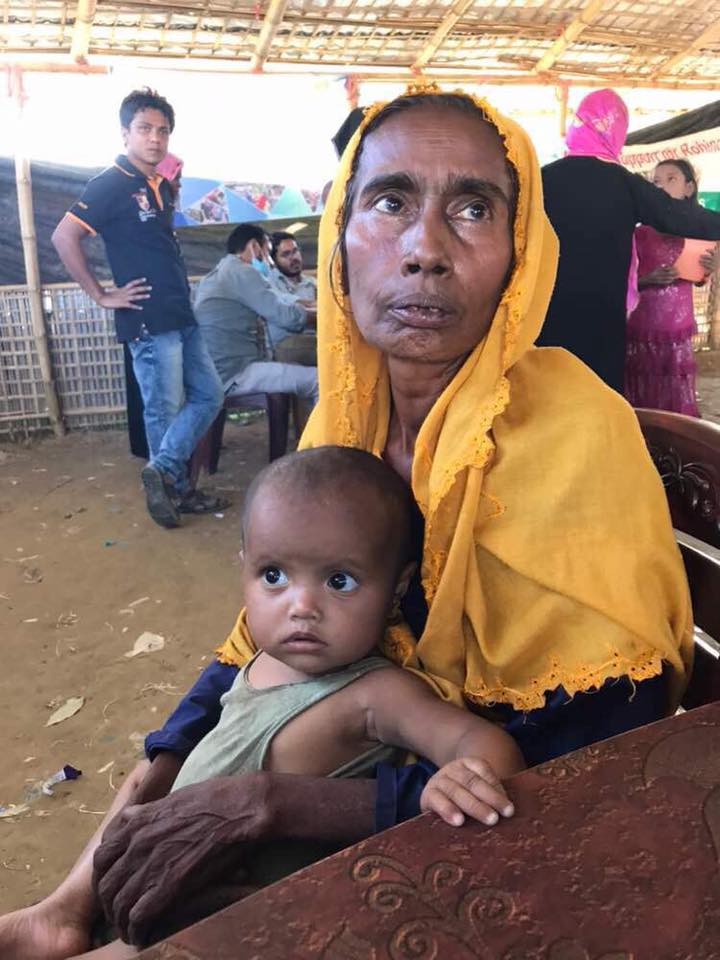 4. Dr Shamsinar cuddling a 12 day old healthy baby boy. Neonatal jaundice the least of their worries unlike Malaysian mums :)

5. First rohingya lady wearing glasses. Many probably have eye issues but cannot afford glasses :|
She is 73 yrs old. She has 10 living children. 2 shot dead by Burmese army.

6. Meet Shamal and Shamil :D
Identical 5 year old twin boys. Home delivery in Burma which is the norm. With help from ICR International Consortium for Rohingya, namely Al-Khidmat Foundation we plan to train 500 birth attendants.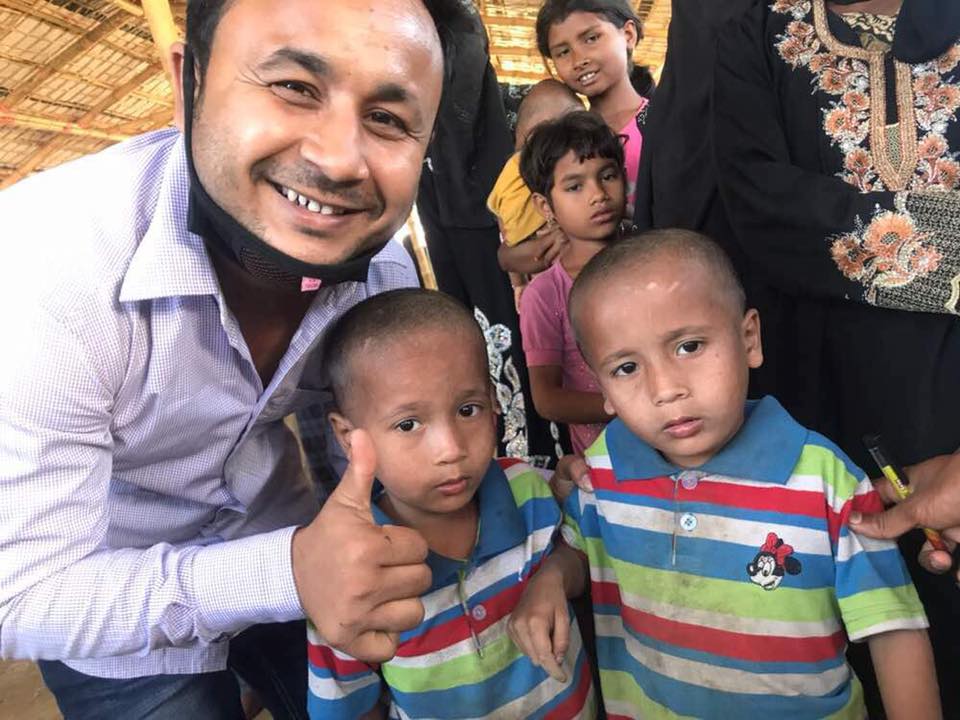 7. Preparing for minor surgery @ Mobile Clinic. Dr Syed CSBD orthopedic surgeon assisted by new found friends backpackers medical team from UK & Australia

8. Green stick fracture of forearm which required a cast @ FH. Immobilized with modified tape prior to transfer. Our mobile clinic was then overwhelmed with 420 patients! So we requested our UK & Aussie friends to transfer, who readily obliged! Authentic moments of collaboration & friendship. Loads of these moments on the ground!

9. Dr Shamsinar & Dr Jalila becoming Rohingya kids for a brief moment. They joined in psycho-spiritual exercises and were rewarded with cookies :)

FIMA-ICR-IMARET-CSBD-FH Mobile Clinic 
3 Dec 2017
1. A long walk & climb to the hill top where our clinic is perched. One must be fit ok to do mobile clinics.

2. 60 year old frail lady (as old as me). Only weighed 35 kg. Her husband was shot dead. Burmese army gun shots missed her. She escaped with her 2 children walking 4 days from Burma to Bangladesh. I shared my lunch with her!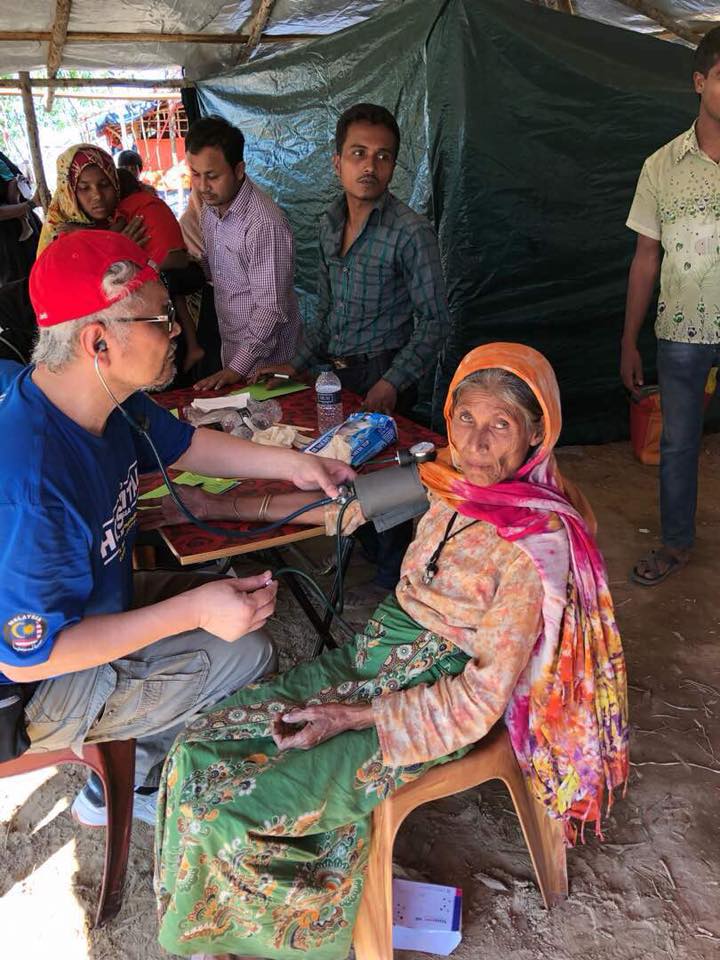 3. The Dream Team. Excellent partnership between FIMA, ICR, IMARET, CSBD & Field Hospital Malaysia.

4. The unsung rohingya heroes who carried the many boxes of medicines, chairs, tables. Ibrahim the guy showing his hand is my efficient translator and scribe. We salary them which means a family of 7-8 members is supported financially. 

5. My first & favorite baby in our Field Hospital (FH). AB 1 yr old, 8 kg who had food poisoning. I personally fed her ORS (oral rehydration solution) which she finished in 10 minutes - I don't even feed my own cucu or patients in DSH:) She made my day; in-spite of the sweat, tiredness, body aches, thirst & hunger.

6. A 10 year old girl, 16 kg only. She was dehydrated with AGE (acute gastroenteritis) and required intravenous fluids.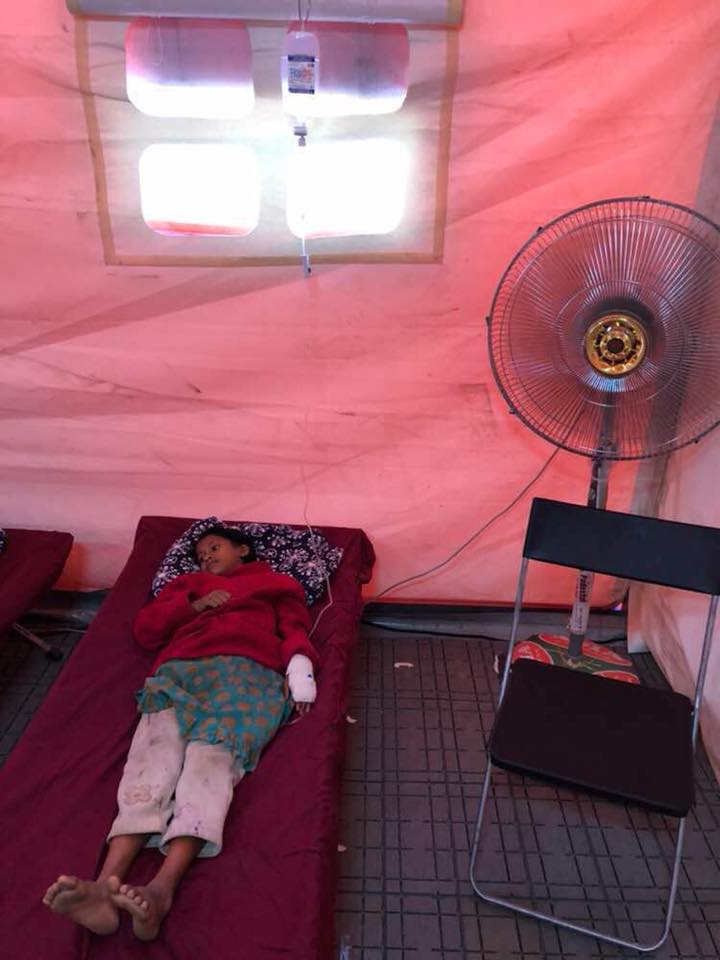 7. Another favorite is this 17 day old baby who was delivered in a low risk birthing centre. 3 kg baby. I did a full top to tail neonatal examination. Alhamdulillah! Sihat wal afiat!

2 Dec 2017
IMARET-FIMA TEAM III
6th Mobile Clinic (Report by IMARET)
@ Thengkali Refugees Camp, Ukhiya District
Even though we operated with only 1 pediatrician that is our beloved Dr. Musa, but the work and undivided effort from our IMARET doctors and CSBD brothers are no less remarkable.
A total of 379 pt benefited from today's clinic
23 pregnant ladies were screened and alhamdulillah they did not have any obstetric complications. Despite the absence of our ObGyn Consultant Dr Fauziah today, Dr. Jalila did a great job of managing the scan clinic.
We had a few interesting cases today:-
1. A late stage basal cell carcinoma
2. A measles case 
3. A healthy baby girl who was safely delivered in this camp 5 days ago. She weighed approximately 3kg, both mother and baby are in great condition alhamdulillah. 
4. A case of generalised body ache post assault by a burmese army on an 18year old girl, who is unable to walk due to extreme pain. 
5. These cases were referred to our Malaysian Field Hospital.
Our pharmacy today was managed by our "Rohingyan pharmacist" brothers, with the supervision from Dr.Imran, one of our CSBD doctors.
The view and scenery of the deeper parts of Thengkali camp was astounding. This land is indeed blessed, housing the persecuted Rohingyas escaping the genocide in their birth land.
Do your part, donate and together we help our brothers and sisters.
IMARET ladies Dr Shamsinar & Dr Jalila & CSBD doctors & Field Hospital Malaysia @ our 27th Mobile Clinic aka Forward Medical Teams FMT

Home delivery @ 3 kg. Clean bill of health. Mum well too. Alhamdulillah

This 5 day old baby made it all worth it! The climax of our mobile clinic today :)

Our dispensary managed by Rohingya "village doctors"

Our oldest patient 90 year old. 14 children. For a change, all survived with her. Some paid 20K Takas - RM 1K to escape the genocide. Mubarak our translator is excellent with logistics & translations!

Confirmed case of measles. Will be notified to EWARS - Early Warning And Response Systems. The healthcare cluster meets every Wednesday to share information & coordinate our health programs.

All children being accessed & immunised to prevent measles and cholera outbreak

Dr Jalila did the obstetric clinic today with our portable ultrasound machine.

We had to walk long distances & cross a river to access this village! They are deprived of basic healthcare having crossed over 1-2 months ago!

1 Dec 2017
Today must be our biggest mobile clinic!
1 psychiatrist & 5 physicians from CSBD ( Charitable Society of Bangladesh Doctors)
1 paediatrician from FIMA/ICR (International Consortium for Rohingya)/ Field Hospital
1 OBGYN & 2 volunteers from MyCare
2 physicians from IMARET
1 physician & 1 logistician from Field Hospital Malaysia.
4 Rohingyan interpreters
3 Rohingyan "village doctors" who dispensed the drugs.
A few Rohingyan boys helped carry our drugs, equipments etc
We travelled even deeper into Thangkali requiring us to walk longer distances to access our clinic which was perched on a hill top
Our first of many many pregnant ladies had a missed abortion on ultrasound
In total 35 ladies had a thorough OBGYN exam including ultrasound scans. By then our ultrasound power had exhausted and no electricity was available for charging.
Our psychiatrist did individual counselling and also spoke to the large numbers of men in the musolla just prior to Friday prayers. Then he did a group therapy with the children who enjoyed his antics and the cookies which we distributed.
It was not just about accessing healthcare to the most marginalised among the refugees - 26 mobile clinics since the refugee exodus at end Aug 2017. But also ensuring we provided quality medical services.
Our heartfelt gratitude to your continuous moral & financial support to our humanitarian medical relief at the Bangladesh-Burma borders. Thank you AirAsia 
Foundation for sponsoring the flights for our two doctors!
We welcome your financial contributions. The funds will help us sustain our mobile clinics.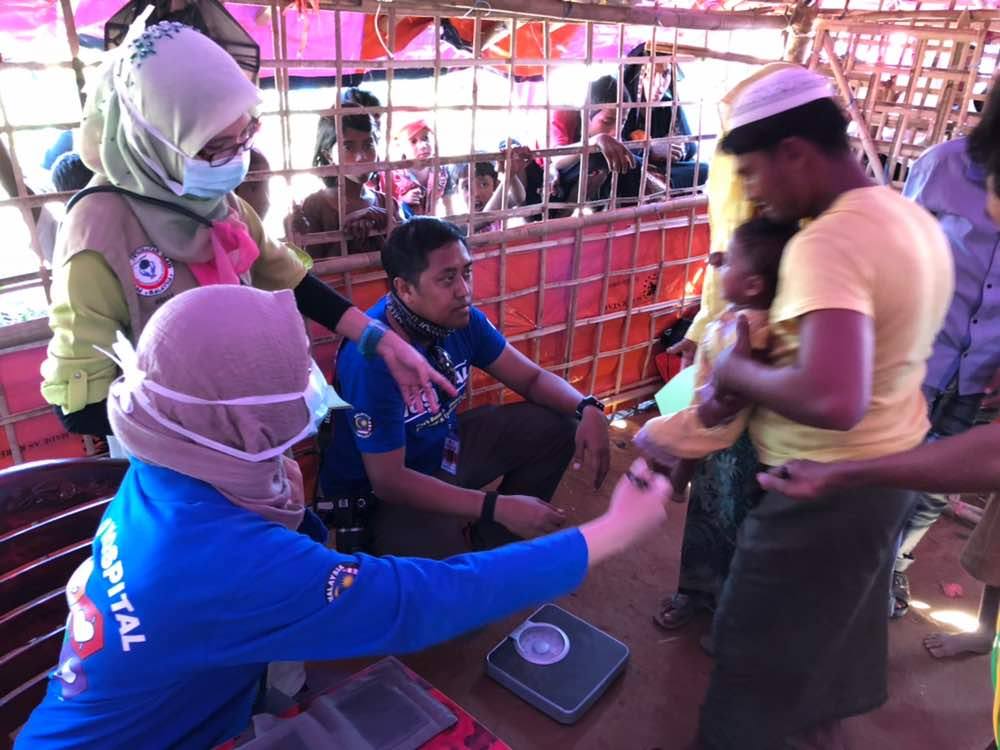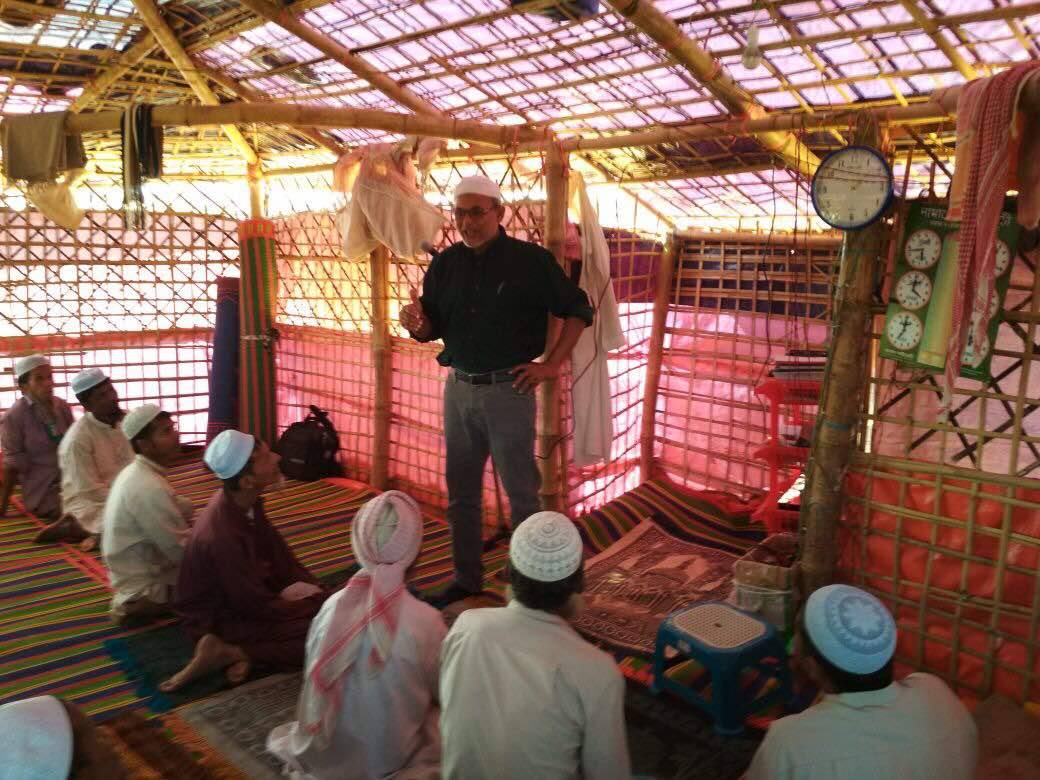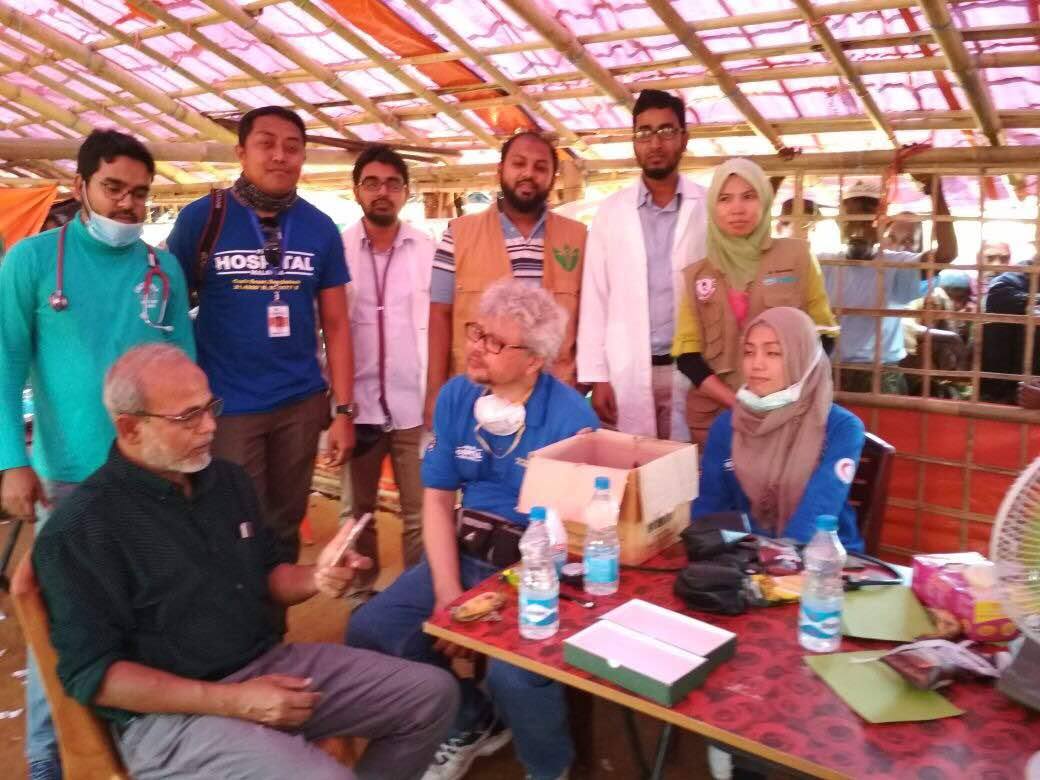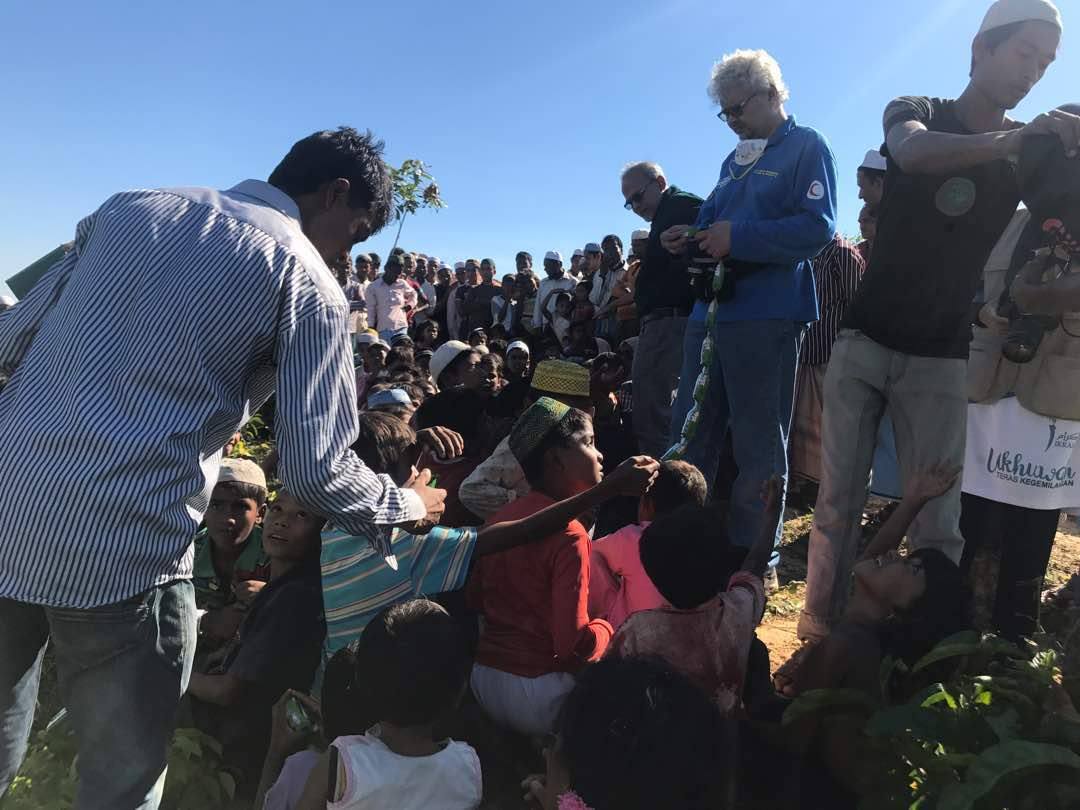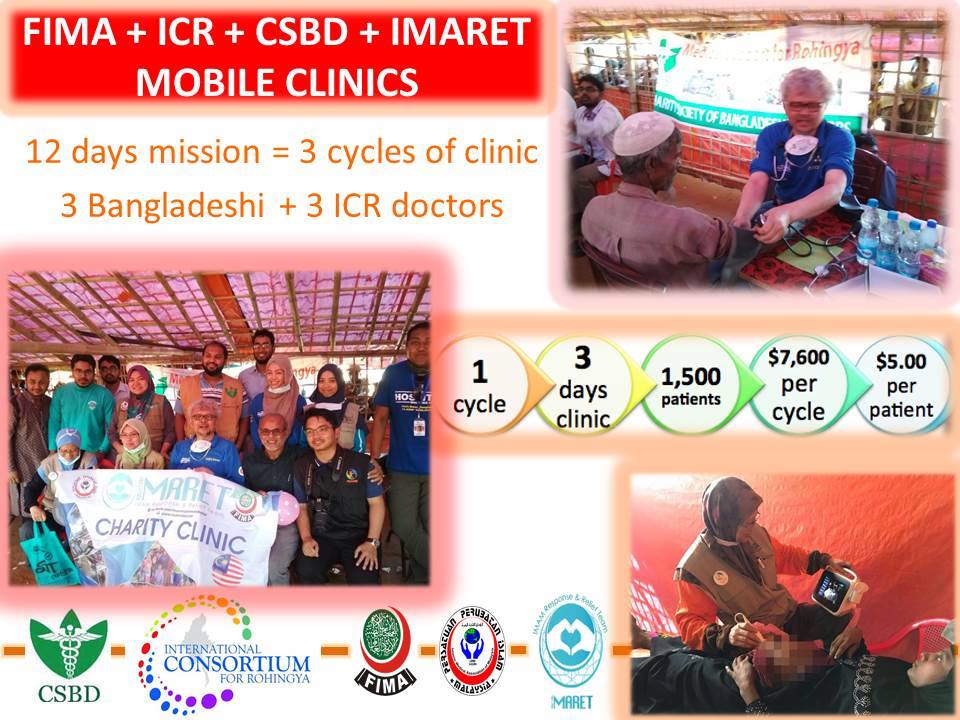 Last modified on Wednesday, 06 December 2017 09:54