Brief Report on
The 7th FIMA Students Umrah Program
17- 22 April 2010

Participating IMAs were from 7 Countries:
Malaysia, Turkey, Iraq, Indonesia, Jordan, Palestine and Saudi Arabia

Number of participants:
Malaysia - 7
Turkey - 4
Iraq - 5
Indonesia - 2
Jordan - 4
Palestine - 2
Saudi Arabia - 7
Organizers - 10
Total              50

Outline of the Program:
Makkah Program: Fri 16 April to Monday 18  April 2010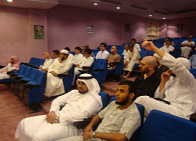 After arrival and reception from Jeddah Airport, the group performed Umrah. The program included enjoying long stays in Al Haram Al Shareef.
Visit program was started on the first day to Ghar Hiraa, Jabal Thowr, Jabalu Rahma in Arafat, Muzdalifah, Mina and some of the old mosques and ancient castles. Beside sport and cultural program the group enjoyed going outside Makkah on the second day.
Madinah Program: 18 – 20 April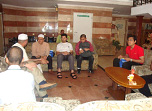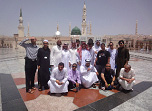 The group travelled from Makkah to Madinah by bus (500 km) through Hijra Road. The program started in AlMadinah Al Munawwarah on Monday evening and included Training & Cultural Program, Visits to King Fahad Complex for Printing the Holy Quran, Al Madinah Center for Studies which demonstrates the history of Madinah and Makkah as well as field visits to major historical sites important in Seerah                    Al Nabaweyyah like, Uhud, AlKhandaq etc beside free time in Al Haram Al Nabawi
On Thursday 21 April, the group travelled back to Jeddah for departure.
Last modified on Wednesday, 28 July 2010 13:41