Our young doctors are in full swing!
Updates 012
IMARET East Coast Flood Relief 2014
31 Jan 2015

IMARET is now on the road to Kelantan.
On board the coach is a mix of NGOs & institutions with a variety of talents and expertise
They include:-

IMARET
Dapur jalanan
Epic home
Seksan Design
JPJ
UITM

Alhamdulillah! The attached pictures looks like a microcosm of Muhibbah Malaysia. This surely augurs well for our nation's future.

Medical relief, food catering, clean up operations and plans for housing should set them  busy over the upcoming week end

Seksan design & Epic  Home  will recce and plan the building sites for the permanent "flood proof" homes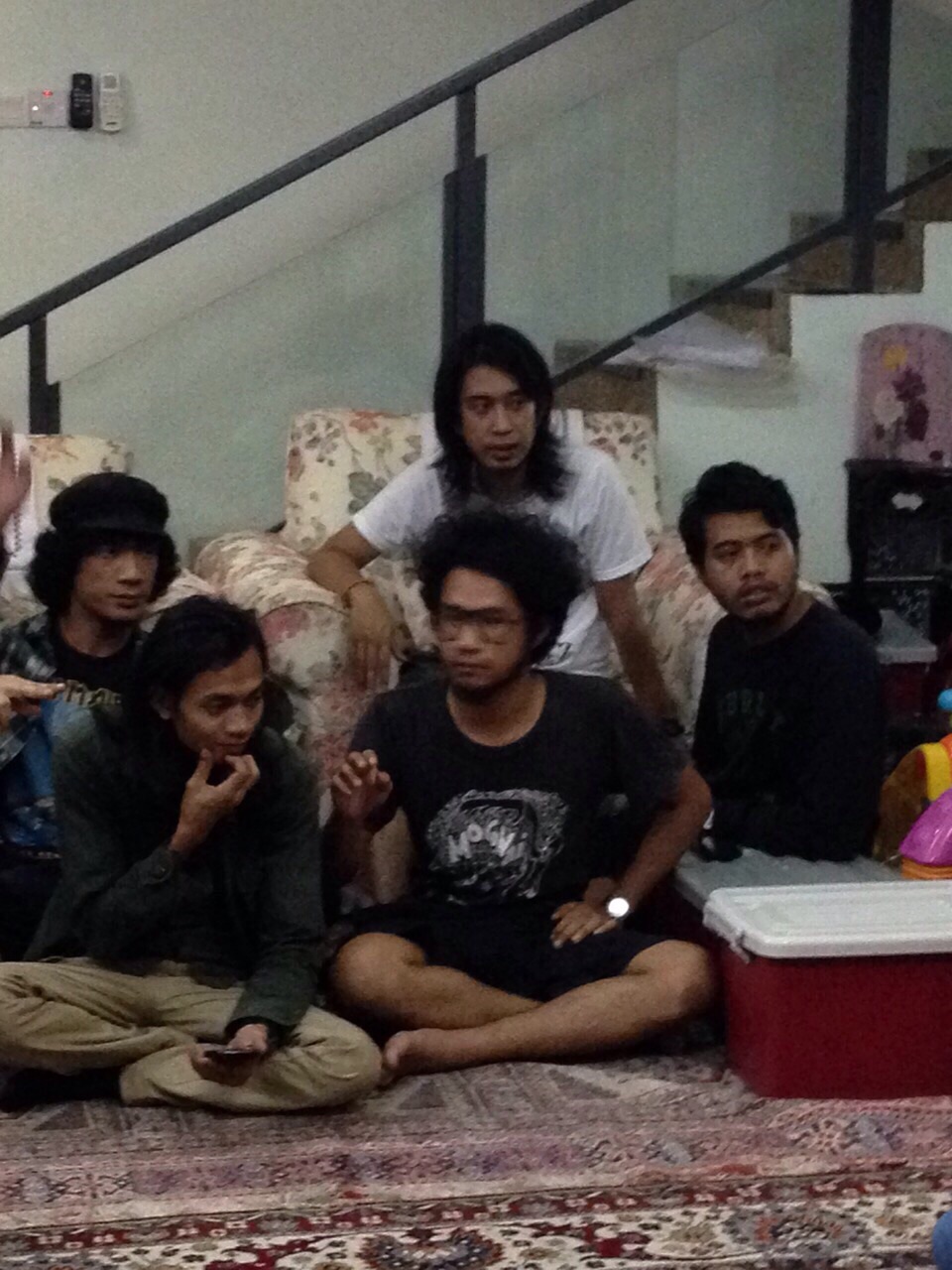 Updates 011
IMARET East Coast Flood Relief 2014
21 Jan 2015

Dr Azfar, on his second flood relief mission and Dr Azzad, who flew in from Kudat, Sabah were IMARET volunteers who joined the KPJ mission in Kg Tohoi, Gua Musang.

Their 4WD  got stuck in the mud 3 times before reaching Kg Tohoi, an Orang Asli settlement.

They saw130 patients. There was an outbreak of diarrheal diseases amongst the patients.

DSH operations manager reports that "Dr Azfar & Dr Azzad sangat2 berjiwa kental"
Breaking News
IMARET East Coast Flood Relief 2014
20 Jan 2015

Yet another mission was flagged off this morning by the CEO of KPJ DSH, Puan Zaharah Osman and En Hafiz from Bank Muamalat.

Two young doctors from IMARET will provide medical relief in the convoy headed for Gua Musang which will among others serve the Orang Asli community.

The mobile clinic sponsored by Bank Muamalat would be the epicenter of the mission's health program.

Senior nurses from DSH have volunteered their services apart from a logistics and cleaning team.

 
Update 010
IMARET East Coast Flood Relief 2014
14 Jan 2015

In the past 3 weeks, IMARET has sent 16 teams for flood relief missions. We will be sending more in the next two weeks through our joint-ventures with other institutions including
KPJ, Bridged Kebajikan Tg Karang & the Weekenders.

If you are interested to join any of the missions listed below kindly contact :-
Dr Syafiz +60 19 888 7237
Dr Najmi 016 691 4070

1) 16-18th Jan: Mission to Temerloh-Rompin (6-8 doctors)

2) 17-18th Jan: Mission to Dabong (2-4 doctors)

3) 19th-23rd Jan: Mission to Gua Musang  (2-4 doctors)

4) 23rd-25th January: Mission to Manek Urai/Rantau Panjang (6 doctors)
Update 009:
IMARET East Coast Flood Relief 2014
1st Jan, 2140

1. One lorry full of medications, clothes, drinking water as well as our two boats are currently heading to Temerloh

2. Team 11, headed by Dr Syahril with the strength of 8 doctors has just arrived in Kuala Krai, they brought with them medical supplies and basic necessities.

3. Team 7 & 9, with the strength of 26 volunteers went for mobile medical services around Kuala Krai covering three previously inaccessible villages (Kg. Pemberian, Latarek and Budi). They even transferred one ill patient with severe dehydration with the help of the navy to the nearest hospital. The two teams will be returning home tomorrow.

4. Team 8, headed by Dr Faidhi based in Kota Bharu was divided into two teams, one team with the strength of 6 doctors went to Kg Bongor Nior, Rantau Panjang to provide mobile medical services and the other team with the strength of 5 doctors went to Masjid Beijing, Rantau Panjang to set up a field clinic.

5. We are now planning our Phase II post disaster relief mission where we will distribute wellness kits that include hygiene kits, shelter kits (blankets and tents), cooking utensil kits and paeds kits (diapers and milks). JPJ and RELA officers are helping us pack the items today and we will be sending the packed items to specific villages that have been identified by our volunteers.The items will be delivered tomorrow night to Dabong via lorry and 4WDs.

If you wish to help:
1. Cash transfer through our Maybank account: Persatuan Perubatan Islam Malaysia 562834623415
(please notify: This email address is being protected from spambots. You need JavaScript enabled to view it. )
2. Medical Volunteers (doctors, nurses, medical assistants) to join our relief teams to the affected areas

Please fill in the form to volunteer:
http://bit.ly/1wN3urg
Update 008:
IMARET East Coast Flood Relief 2014
31st, 420pm

1. Team 8, headed by Dr faidhi is currently divided into a few groups to run mobile clinics to cater to villages that are badly affected. One 4WD to Dabong, two 4WDs to Gua Musang, one 4WD to Sg. Golok and six 4WDS to Temangan while five doctors are stationed in Pasir Mas to serve as a static clinic. (Attached are some of the pictures sent by the team)

2. Team 7 headed by Dr Sharmilla & Team 9 headed by Dr Naja are now merged to serve both Machang & Kuala Kerai. They are stationed at the Mercy Base Camp in Machang as well as JPAM operational base camp in Kuala Krai. They are moving between the two areas to provide mobile medical services.

3. Dr Munawar, our representative from Team 2 has just reported back to headquarters. He served during the critical phase in Dabong and Kuala Kerai. (Attached are some of the pictures he took during his mission)

4. We received a donation of AUD3750 from Al-Qalam Institute, Perth. Thank you for your contribution.

5. Our quartermaster received RM20k worth of medical supplies from the management of Damansara Specialist Hospital. (Picture attached)

If you wish to help:
1. Cash transfer through our Maybank account: Persatuan Perubatan Islam Malaysia 562834623415
(please notify: This email address is being protected from spambots. You need JavaScript enabled to view it. )
2. Medical Volunteers (doctors, nurses, medical assistants) to join our relief teams to the affected areas

Please fill in the form to volunteer:
http://bit.ly/1wN3urg
Update 007
IMARET East Coast Flood Relief 2014
30th Dec, 1245pm

1. Team 8, headed by Dr Faidhi with the strength of 27 doctors are currently on the way to Pasir Mas. They have been instructed to set a medical base at the Balai Bomba. All doctors are in high spirits.

2. Team 9, headed by Dr Naja has just left Putrajaya early this morning for Kuala Krai with 6 4WDs. The team consists of 3 senior medical officers, 4 junior medical officers, 1 nursing sister, 9 nurses, 6 drivers including one paramedic amongst them and one teenage volunteer. They brought with them more than 200kg of medical supplies.

3. Team 7 now headed by Dr Sharmilla with 2 other doctors who were initially based in Kemaman left for Kuala Krai last night with a 4wd as we were called to send more doctors due to most doctors currently in Kuala Krai are extremely exhausted

4. As of now we have offloaded 30 tonnes goods to KB, and we still have 57tonnes in the warehouse awaiting to be carried via FireFly cargo in the next few days, estimated around Rm300,000 worth of supplies. Huge thanks to our partners the ?#?tamakpahala? team, SyriaCare & FreeMarket team for handling the non-medical supplies.

If you wish to help:
1. Cash transfer through our Maybank account: Persatuan Perubatan Islam Malaysia 562834623415
(please notify: This email address is being protected from spambots. You need JavaScript enabled to view it. )
2. Medical Volunteers (doctors, nurses, medical assistants) to join our relief teams to the affected areas

Please fill in the form to volunteer:
http://bit.ly/1wN3urg


Update 006:
IMARET East Coast Flood Relief 2014
28th Dec, 1340pm

1. Dr Yusuf in Kemaman reports relief items were successfully delivered to SK Bukit Mentok

2. 200kg of medical supplies were delivered to Hospital Kuala Krai via private helicopter funded by Tan Sri Lim Kang Ho of Iskandar Waterfront Holdings, in collaboration with Puteri Umno Malaysia headed by Datuk Mas Ermiyanti

3. Team No. 7 arrived in Kerteh Airport via private jet courtesy of AFJet Sdn Bhd. and now on the way to report to PKD in Kemaman. Team members include Dr Ahmad Zaimi (mission leader), Dr Sharmilla Nazir, Dr Eda Haryati, Dr Shamsinar. Included medical supplies over 200kg in collaboration with MIMPA and Ikram Health

4. IMARET committee had a meeting earlier this morning to re-organize and plan for our next mission (Team 8,9,10) due to leave KLIA2 to KB tomorrow morning courtesy of AirAsia

5. Dr Zaim, head of operations was interviewed by NST: http://www.nst.com.my/node/66675

If you wish to help:
1. Cash transfer through our Maybank account: Persatuan Perubatan Islam Malaysia 562834623415
(please notify: This email address is being protected from spambots. You need JavaScript enabled to view it. )
2. Medical Volunteers (doctors, nurses, medical assistants) to join our relief teams to the affected areas

Please fill in the form to volunteer: http://bit.ly/1wN3urg


Update 005:
IMARET East Coast Flood Relief 2014
27th Dec, 1240pm

From left Dr zaimi, Dr Syafiz (IMARET Human Resources Coordinator), Encik Safwan (AF representative), Dr Imran & Dr Zainal..

Dr Zaimi, Dr Imran and Dr Zainal will leave to Kemaman to join the mobile clinic efforts with the goods to be delivered.

If you wish to help:
1. Cash transfer through our Maybank account: Persatuan Perubatan Islam Malaysia 562834623415
(please notify: This email address is being protected from spambots. You need JavaScript enabled to view it. )
2. Medical Volunteers (doctors, nurses, medical assistants) to join our relief teams to the affected areas

Please fill in the form to volunteer: http://bit.ly/1wN3urg

For more info
Facebook.com/imamresponseandrelief
Imamalaysia.org
Update 004:
IMARET East Coast Flood Relief 2014
27th Dec, 1115am

We are getting such an overwhelming response from young doctors who wish to be part of the relief team, as of now we have more than 70 doctors in our list, the procedure as of now:
1. Fill in the form with your details:
http://bit.ly/1wN3urg, once form is filled you are considered registered.
2. We will send doctors according to the space available offered by the airlines sponsoring, if you wish to go on your own, you may contact our representatives there.
3. As soon as the airlines confirmed the spaces available we WILL contact you.
4. This is merely on at-own-risk volunteering basis, but we will provide the contact of insurance agents for you to personally apply.

For any futher inquiries please contact:
Dr Za'im 0127603514
For more info
Facebook.com/imamresponseandrelief


Update 003:
IMARET East Coast Flood Relief 2014
27th Dec, 0800

From our medical volunteer Dr Munawar in Kelantan, he is requesting for more medical volunteers to be sent to Hospital Kuala Krai. Most villages are inaccesible with almost 1500 people per village. They transfered three labour cases to another hospital including one patient with pre-eclampsia via boat. We need doctors who are already in Kelantan for immediate deployment please contact our partner urgently Mercy Malaysia (Ain) 0193140769, doctors from KL will need transportation arrangement.

If you wish to help:
1. Cash transfer through our Maybank account: Persatuan Perubatan Islam Malaysia 562834623415
(please notify: This email address is being protected from spambots. You need JavaScript enabled to view it. )
2. Medical Volunteers (doctors, nurses, medical assistants) to join our relief teams to the affected areas

Please fill in the form to volunteer: http://bit.ly/1wN3urg

For more info
Facebook.com/imamresponseandrelief


Update 002:
IMARET East Coast Flood Relief 2014
27th Dec, 0800

2 IMARET Cargo arrived safely in HUSM:-
1) 2 tonnnes of goods delivered from Besut arrived at 1am via lorry
2) 150kg (5 boxes of medications), arrived at 0805H via Firefly cargo
3) 4 tonnes of cargo due to depart from gombak this morning

If you wish to help:
1. Cash transfer through our Maybank account: Persatuan Perubatan Islam Malaysia 562834623415
(please notify: This email address is being protected from spambots. You need JavaScript enabled to view it. )

2. Medical Volunteers (doctors, nurses, medical assistants) to join our relief teams to the affected areas

Please fill in the form to volunteer: http://bit.ly/1wN3urg

For more info
Facebook.com/imamresponseandrelief
Imamalaysia.org


Update 001:
IMARET East Coast Flood Relief 2014
26th Dec, 1800

Team in Kemamam headed by Dr Ahmad Yusuf Yahaya
They have started running their mobile clinic at Pusat Pemindahan Banjir SK Seri Kemaman. Volunteers consist of IMARET (2), MERCY (1), IH (3).

Team in Kota Bharu headed by Dr Munawwar Helmi with a team for four doctors, the latest news we received was early morning upon their arrival in Pasir Mas. Awaiting updates.

We are arranging a couple more teams to leave tomorrow and the day after.

If you wish to help:
1. Cash transfer through our Maybank account: Persatuan Perubatan Islam Malaysia 562834623415
(please notify: This email address is being protected from spambots. You need JavaScript enabled to view it. )
2. Medical Volunteers (doctors, nurses, medical assistants) to join our relief teams to the affected areas
Please fill in the form to volunteer here: http://bit.ly/1wN3urg

For more info
Facebook.com/imamresponseandrelief
Imamalaysia.org
Dr Zaim 0127603514