(For all the latest updates: go to IMARET's FB)
IMARET Updates Post-Floods No:6
Kami akan membina sebanyak 14 rumah di Kg Serasa Dabong Kelantan pada May ini bermula dari 9hb May.
Ini adalah tajaan Prudence Foundation.
Kami mengalu-alukan penyertaan sesiapa yg berminat utk volunteer dalam team membina rumah.
Tidak perlu ada pengetahuan mengenai pertukangan atau asas binaan kerana kami akan menyediakan crash course satu hari secara free kepada peserta.
Tiada yuran dikenakan.
Semua perbelanjaan (travel bersama bus kami, makan, tempat tidur (khemah) telah disediakan) ditanggung oleh pihak kami.
Tolong viralkan untuk menarik lebih ramai peserta kerana masih ada slot kosong.
Untuk menyertai, daftar di link di bawah
http://www.projecthouserelief.com/events/evt5539df33b0d82/prudence-foundation-rebuild-mission
Sebarang kemusykilan sila ajukan kepada saya atau di website tersebut.
Jazakallahu khairan kathira
Moga usaha kita mendapat keberkatan dari Allah
Dr Syikin Yunus
This email address is being protected from spambots. You need JavaScript enabled to view it.
0163110347
IMARET Post Floods Updates No: 5
Project House Relief completed its second house on 20 April 2015.

In collaboration with Rakan Muda @ Kg Jerik a high land area.
Third house will be built from 23-26 April.
Our builds for May can be found in this link.
Volunteers are still welcomed.
http://goo.gl/forms/c42g5DsIID
IMARET Updates Post-Floods II
Breaking News

Project House Relief near completing a "flood resistant house in Dabong. Construction began 5/3/2015 and continued till now 1930h 9/3/2015. As of now the house is fit to live in. Plumbing and wiring will be installed tomorrow.

It has been a wonderful and amazing experience enriched with all colors of Malaysians & multinationals from multi organisations.
A collaboration and a wealth of creative minds and talents contributing towards this altruistic project.

The dream team:
Ng Seksan, John-Son Oei, Nickson Tan Boon Han, Jeh Tat Wong, Tzu Peng, Stephen To, Edward Ho, Jayne Kennedy, Anouk Dandreou, Shafril Hadi, Zhiyang Soon, Ben Pua, James Lai, Jade Tan, Andrew Yong, Gurpreeg, William Koong
- from Epic Home and Seksan Design who has collaborated with IMARET from Day One in planning and designing the house and also the construction of the home

Biji-Biji Initiatives:
A group of dazzling creatives have given special touch to the house by transforming recycled materials into the roof and walls.
Thank you Azam Hisham, Zoe, Sam Cheetham, Rashvin, Tyska & Peter
Ruben Cortes of EarthShip

The cycling community who brings their enthusiasm & fabulous touch:
Jeffery Lim, Linda Chong, Basikal Akmal , Alex McNab
You guys rock big time!

Handyjobs Studio: of recording and documenting our efforts
Joyce Wan, sanjeev,akash
Cant wait to see the documentary

Other builders:
shahrul shazwani
Shin Chang

Freemarket peeps:
Thinagaran
luqman Avicenna
sarvin

Haikal from MonaLyssa
Luqman (IMARET)
Dexter Goh
Intan

Annie Lim who is priceless, super woman who does everything- from settling our tummy with scrumptious food with Pok Mat and Makcik Ani, quenching our thirst and being the ever dependable runner. We are lucky to have you in our team!

The youths of UM's QS & Built Environment Faculty

Hanif
Azizi
Khairul
Mas Auni
Hakim
Amirul
Nor anizah
Haizal
Faris
Farah
amir hamzah
wan nor shahira
amin nasrin
syazia

Dr Faizul: UM's lecturer

IMARET's medical team who have provided medical standby at site, Mobile clinics in the villages, brought a boat to a settlement and gave psychological first aid program to the school children at SK Jelawang
Munawwar Helmi Aneesa Abdul Rashid Azlan Helmy Abd Samat Hanif Mahmud Syafiz Ahmad Ahmad Yusuf Yahaya Farhana, Hidayah, Siti Afifah Abd Manas, prof Ikram, Munirah, Rafidah, Mustaqim and Monalyssa Band
and Azri of Small Changes

FreeMarket & Food Aid who have provided FreeMarket Canteen at SK Jelawang
and also goodies for kids and community At long last we meet! Hayati Ismail

Abg Irham and Mizi and other Abangs of 4WD teams who have accompanied us and provided us with valuable transport

JPJ Abangs who rock and patiently drove us everywhere

Pakcik Ali and Lan our bus driver

encik Rashid who have worked with imaret since day one

Good souls of malaysia who have donated the money for the house

May God bless you all

May this be the spark.

#ProjectHouseRelief
#PHR
#EpicArmy
#IMARET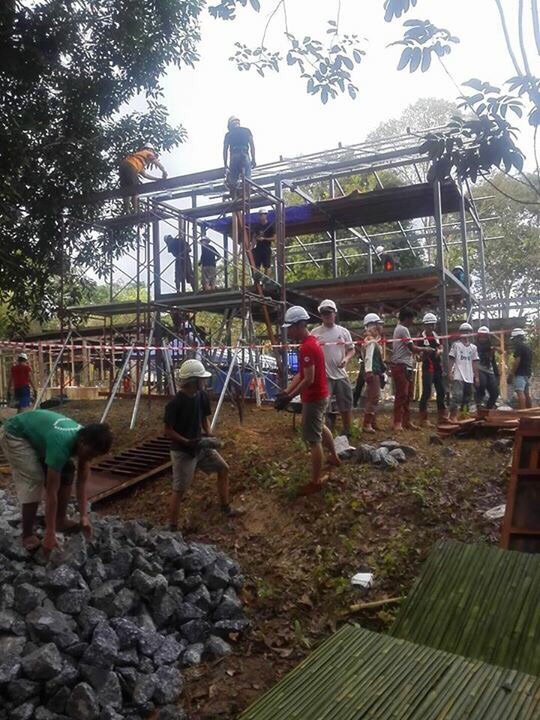 IMARET Updates Post-Floods I
6 March 2015

5/3/15
2140h: our bus of 40 people and 2 4WDs moved to Kelantan from Bukit Jalil.

A diverse group of malaysians, and friends from Hong Kong, Holland, UK & Russia.

Project House Relief PHR is now formally launched
It functions as an open platform that connects organisations together and also encourage collaborations

IMARET with Epic Home will guide other NGOs or corporation in this project.

For more info:
www.projecthouserelief.my
(website is supported by Hong Leong Bank)

One of the fundraising campaign that was done is Pledge Your AngPows.

Next will be "Spirit of Ramadhan"
Pledge Your Duit Raya, KidsForKids campaigns.

Working through the night to build the foundation of the "flood proof" house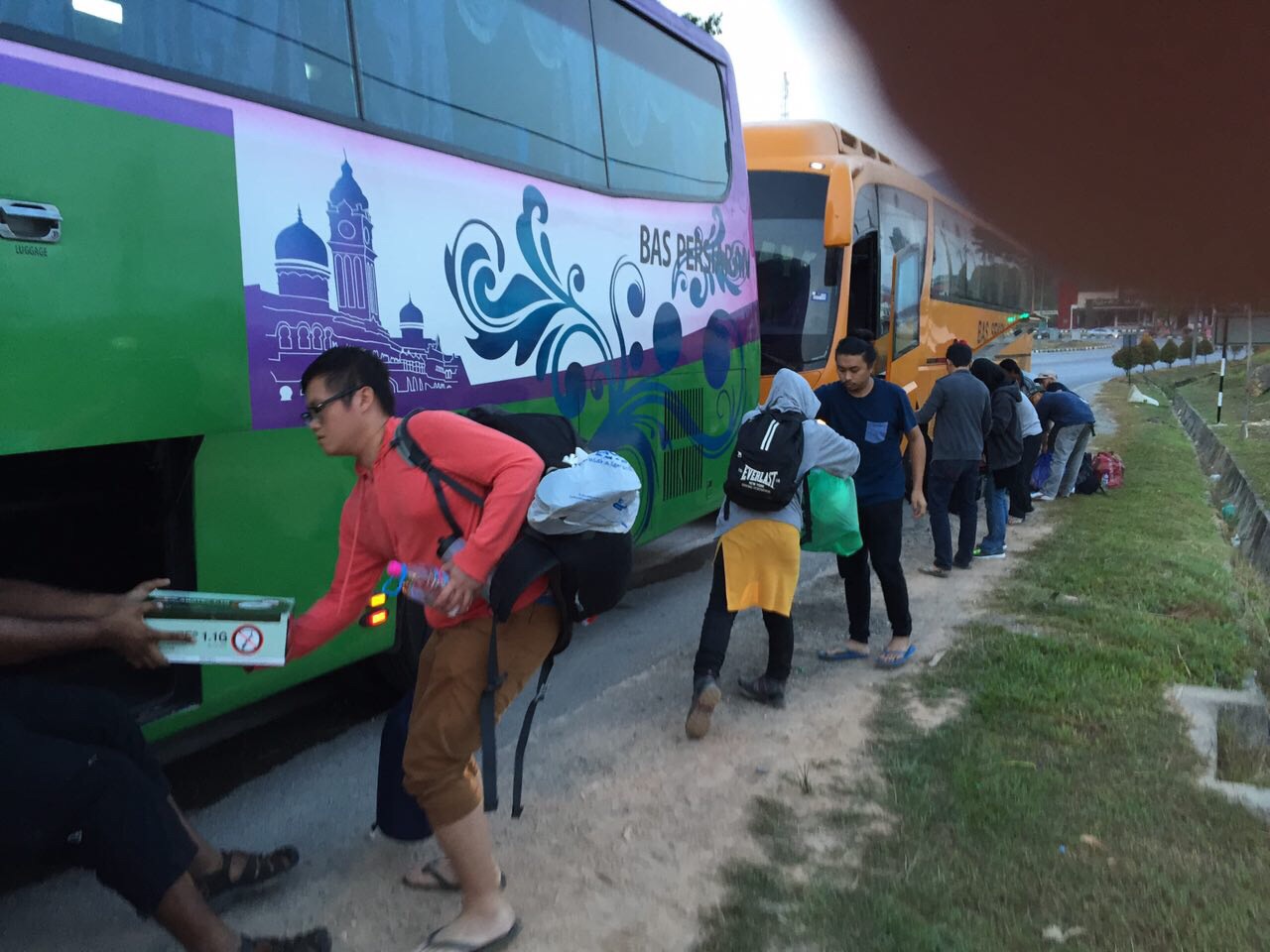 Breaking news from Kg Stong

Highly spirited > 50 volunteers, has commenced the construction work. They were devided into 5 teams. Manager on site : nickson of epics home.

The owner of the house: en aziz is also one of the volunteers.

Ng Seksan the lanscape architect is enjoying it.

An awesome epic togetherness, a testimony of unity.

RTM and Handyjob videographers are documenting the whole progress.

IMARET Dr Munawar , Dr Syikin and Dr Azlan are managing the medical, and overall coordination.
Last modified on Monday, 25 May 2015 12:44